Loving God, Serving Others, Welcoming All
Cross & Crown is an ELCA-affiliated Lutheran church in Matthews, NC. For nearly 30 years, we've fostered a welcoming congregation that loves God and cares for each other. At Cross & Crown, you'll find opportunities for uplifting worship, spiritual growth, Christian fellowship, and community service. Come join us for worship services and Sunday School on Sundays and for other ministry activities throughout the week.
For the health and safety of the community, we are currently limiting in-person worship. We ask individuals/families who register in advance for our two services to agree to safety protocols such as mandatory mask-wearing and social distancing. We encourage those who are uncomfortable with in-person worship to join us via livestream each Sunday at 10:45 AM via our
YouTube channel
. A recording of our live streamed service will be available later on Sunday on our website and
Facebook
page.
In addition, please check out the
Virtual Ministries
page to see our virtual options.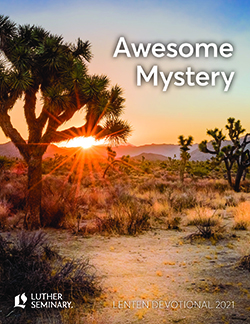 Join us in the holy season of Lent, as we reflect and contemplate our relationship with God and one another. This year we will use the Lenten Devotional, "Awesome Mystery", a free resource made available by Luther Seminary. Download your copy here.
Every Wednesday during Lent at 6:45 PM beginning on February 24th.
Meditation, prayer, discussion, and music
Interactive via Zoom
Healing Service - March 31 at 6:45 PM